Sales Counters and Cash Wraps
We can custom design to your specific needs. We offer design services for store layout, and can build cash/wrap sales counters, back wraps and point-of-purchase display systems.
All of our work can be custom-sized to your requirements. Please call with specifications for quotation.
877-657-7883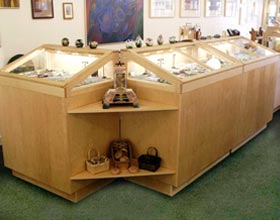 We can supply our designs in a variety of wood species and finishes. Lacquers and stains are available in an infinite choice of color. There is a minimum up charge of 20% for finishes other than natural.
We normally work in maple, cherry, mahogany, red oak and ash. See our wood samples. Other species as well as highly figured woods are available. There is a minimum additional charge of 20% for species such as curly cherry, bubinga, lacewood, curly and birdseye maples, etc. on some items.